Moving Carriages: Faith and Courage in the Shooting Brake
Curatorial News
Our curators move some of the large exhibits in the Mossman Collection of carriages at Stockwood Discovery Centre. Here they rediscover Faith and Courage.
Every now and then we have to move our carriages at Stockwood Discovery Centre. Some of the old carriages still roll along really well. Some unfortunately show signs of their age and we try not to move those.
Recently our Shooting Brake had to move from inside the gallery to outside in the Link. This is a carriage that would have been used on large estates to take people in shooting parties out to shoot pheasants or other game.
It's a lovely carriage and we rediscovered the motto on the sides and back while we were moving it. The motto "Fide et Virtute" translates as "Faith and Courage".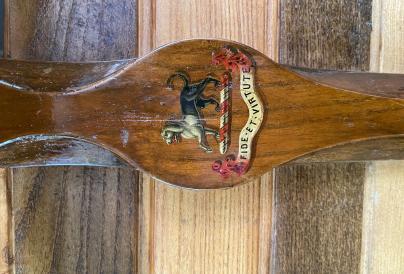 Our shooting brake featured in the 1985 film The Shooting Party directed by Alan Bridges and based on the book of the same name by Isabel Colegate. Set in 1913 the film uses a shooting party to contrast the lives of the aristocracy who own the estates with the poor that work on them.
The film was originally to star Paul Scofield, but he was replaced by James Mason, after he was injured on set. George Mossman, Paul Scofield and Edward Fox were injured when the brake-plank that George Mossman was standing on broke and the carriage ended up rolling over. George Mossman had a concussion from falling between the wheels, Edward Fox broke several ribs and his shoulder blade, and Paul Scofield had a serious broken leg. Maybe that motto is something you need to have if you ride in this carriage?