Local Lace
Curatorial News by Elise Naish
Working on our Lace in Fashion exhibition at Wardown House, myself and our wonderful Museum Maker curators got to rediscover some of the lovely pieces of lace in our collection. I am particularly fascinated by the local lace in our collection, which comes from either Bedfordshire or Buckinghamshire.
We have a large amount of what is called English Revival Lace, which is lace produced from the late 1800s in an effort to try and build up the declining handmade lace industry.
Our previous curators and collectors have been able to document where this lace comes from and in some cases who made it, which is great information to have. Sadly earlier pieces of lace, which might be made locally have little information as to location or who made them. One piece which does have information is shown here.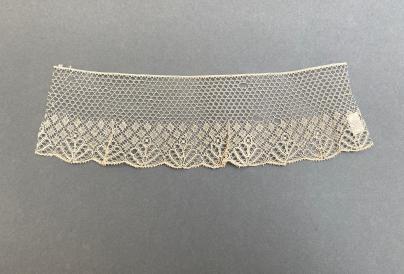 Our records say this pillow lace border was made in Moggerhanger, Bedfordshire, about 1790.
Its object number is 420/39. It is very typical of the time and well made. There is a slight curve to this piece and it may be that it was used as an edging similar to that shown on the petticoat in the fashion plate of 1795. Lace was expensive, so it was kept and often reused much later when fashion and styles changed. Sometimes this reuse can make it difficult to determine its age or what it might have been intended for. You can come and see this piece of lace on display in our Lace in Fashion exhibition at Wardown House, until 11 September 2022.
Lace in Fashion by Museum Makers