Creative Pioneer - Aaron Spendelow
Hat District
Aaron Spendelow
Aaron Spendelow is an experienced Actor, Presenter, Voice Artist, Puppeteer and Writer. He has travelled the world in a variety of productions for TV, Theatre and Film.
It was a natural fit when Aaron decided to join Hat Works as a #CreativePioneer, because he has been delivering experiences across other Culture Trust venues, including The Hat Factory and Wardown House Museum and Gallery. Aaron specialises in engaging creative arts projects tailored for children, helping to motivate young people into positive thinking and inspiring their imaginations through interactive storytelling, theatre productions, and immersive school performances. He is the founder and creative producer of A Children's Story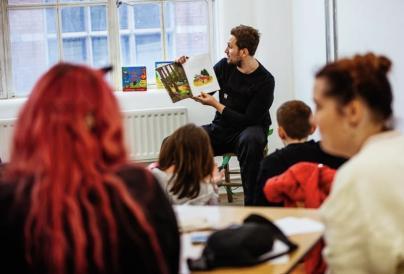 Aaron said:
"It's great working alongside other creatives, it helps motivate you, to push your own boundaries and to strive to raise your skills and keep going! When there's lots of other creative people around you in a place like Hat Works, there's a buzz, an energy which is infectious. You celebrate in each other's successes and become a family of support. You discover new networking opportunities, new events, projects, funding options and potential collaborations. Having other creatives around you can supercharge your mindset and there's always someone around to bounce ideas around and help develop an idea. There's an understanding, a respect, and a strong will to keep bringing quality cultural and artistic opportunities to Luton."
Watch this space: Coming Soon - Stockwood Garden Party – Aaron will be creative producing a brand-new event for children and families over the Summer. It will be free for all to attend and will feature original suitcase theatre, interactive storytelling, puppetry, nature art, garden games and much more! How exciting!
Follow Aaron on Instagram @a_childrens_story
Twitter @aaronspendelow and
Facebook @achildrensstory
The Culture Trust, Luton is delighted that Aaron, one of the area's most adaptable and talented artists is utilising the bespoke-made spaces at the newly refurbished Hat Works building, to further develop his business, collaborate and network in the Hat District creative ecosystem. Hat Works is Luton's oldest remaining hat factory (built in the 1840s) in the heart of the creative cluster, restored to create 64 unique bookable workspaces, quiet areas, group areas and a modern kitchen. Membership starts from just £5 per day, and members get access to a whole host of perks. Find out more: https://www.hatdistrict.co.uk/hat-works-hat-district-luton